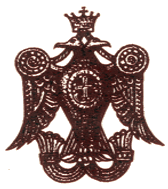 HOLY APOSTOLIC CHURCH -- SPIRITUAL GRATIFICATION

"The character of the Armenian nation is reflected
in the microcosm of its family life."
-- L.M. HAXTHAUSEN-ABBENBURG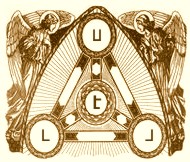 ...A R E G A K A R D A R ... A R A V O T L U S O Y...
F A I R S U N... M O R N I N G O F L I G H T....
MANIFEST SUN OF THE INVISIBLE SUN OF ARARICH.
THE OPENING SACRED CHANT
IN THE HOLY MATEAN OF IMMORTAL NERSES THE GRACIOUS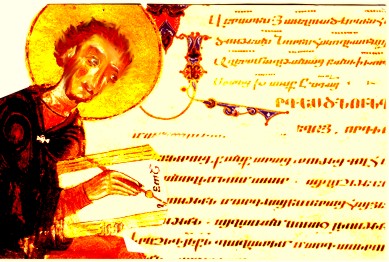 ...IN YARUT'IWN [RESURRECTION] TAŁ GRIGOR NAREKATSI WROTE
THE FOLLOWING WORDS OF TRANSCENDENCE...

'...THE NAME OF THE SELF-CREATED

IS GOD [ASTUATS]...
THAT IN ITS TRUE ESSENCE [EUT'EAN] IS ETERNALLY DIFFICULT TO ATTAIN...
IT IS THE SAME WITHIN OF ITSELF, SAME AS THE ONE...THE ONE THAT IN ITS
TRUE ESSENCE HAS THE ONE NUMBER THAT TRULY COUNTS...
THE ONE THAT IS THRICE GREAT...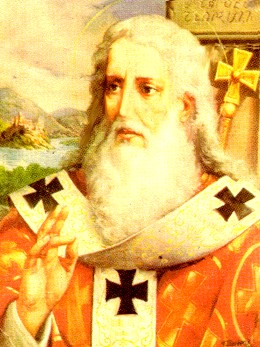 [VAL. OF UNMANIFEST SUBLIME SEVEN THAT SPIRITUALLY UNDERLIES
THE MANIFEST TRIFORCE OF THE COSMIC HIERARCHY -- G.N.]
"...SACRED TRIANGLE...COLOSSAL AND CLEAR HOLY SYMBOL...
THE SOURCE OF NATURE AND MANIFESTATION OF THE DIVINE..."
-- PYTHAGOREAN GOLDEN VERSES
"...ON THE HOLY ALTAR OF OUR CHURCH WITHIN THE SACRED TRIANGLE
I SEE THE ESSENTIAL SEVENTH LETTER OF OUR ALPHABET...UNLOCKING
THE WHOLE UNIVERSE...MEDITATE ON IT...
...YOU WILL SEE THE REFLECTION OF YOUR TRUE SELF..."

SEVENTH SUBLIME LETTER OF OUR ALPHABET BY
THE OUTSTANDING VISIONARY POET D. VARUZHAN
WHO MEDITATED BY USING THE VIBRATIONAL
VOLUME CHANT OF THE SACRED LETTER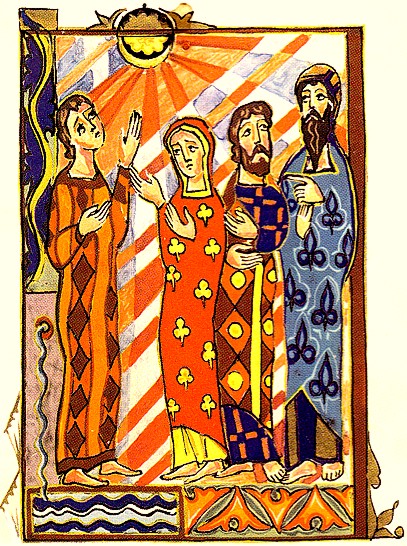 F R E E D O M. J U S T I C E. D I V I N E L O V E.
Written by Gevork Nazaryan
All of the great and eventful events in the life cycle of a Christian Armenian such as birth, christening and marriage were celebrated and sanctified within the periphery of Armenia's Holy Apostolic Church. Traditionally, the Church took upon itself the function to fulfill the spiritual needs of an Armenian. In the Middle Ages, the Church tried to reflect on the meaning of life and give answers to a soul-searching populace. Christian morality -- highly philanthropic -- was the ideal for the conduct, and the priest and monk was the shepherd of the devout Christian souls of the churchly flock. But Armenia's Holy Apostolic Church had even greater significance. The Church adopted many of the pre-Christian traditions [of fertility and Life], mores, and the ancient culture of the Armenian nation that were successfully absorbed and preserved. The Church became the intellectual center of the nation. At times of foreign yoke and oppression the Church became the symbol of the Armenian nation, Armenian sovereignty, and Armenian tenacious vigor and vivacity.