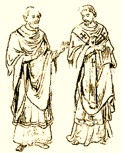 THE FOUNDING APOSTLES
Written by Gevork Nazaryan
In 2001 Armenia celebrated the 1700th anniversary of adoption of Christianity as the religion of the state. In the year 301 A. D. upon the orders of Trdat III and first Catholicos St. Gregory the Illuminator, Armenia became Christian -- thus making Armenia the first Christian nation. The Church of Armenia officially bares the name Holy Apostolic Church, named after the two founding apostles of Christ, St. Thaddeus and St. Bartholomew, who established the first Christian denominations in Greater Armenia in the first century AD and were put to death by the orders of King Sanatruk, who vehemently defended Mithraism, which originated in Armenia and later spread throughout the Roman Empire by Armenian aristocrats.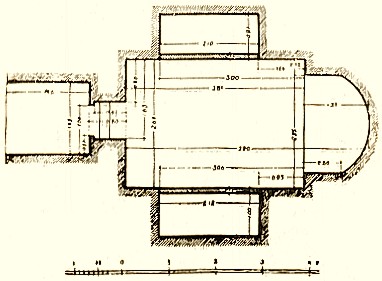 FLOOR PLAN OF A IVTH CENTURY SUBTERRANEAN
ROYAL CATACOMBS OF THE ARSACIDS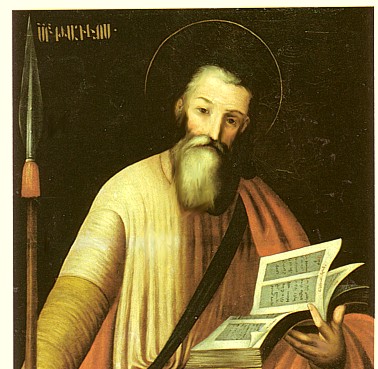 ST. THADDEUS WITH THE HOLY LANCE OF ROMAN CENTURION
GAIUS CASSIUS [LONGINUS] WHO ALLEGEDLY PIERCED CHRIST
WITH THE HASTA [ABOUT 12 FT. LONG! STANDARD ROMAN LANCE OF A LEGIONNAIRE]
DURING CRUCIFIXION AND LATER USED THE HOLY BLOOD OF THE SACRIFICED LAMB
ON THE SPEARHEAD OF THE LANCE TO HEAL HIS FAILING EYESIGHT.
THERE ARE SEVERAL SPEARS THAT ARE CLAIMED TO BE THE ORIGINAL.
THE ONE KEPT IN THE MUSEUM OF THE MOTHER CATHEDRAL OF THE HOLY SEE
IS SAID TO BE THE AUTHENTIC SPEAR OF ST. THADDEUS TAKEN FROM
ANTIOCH IN 1098 BY PETER BARTHOLOMEW, A CRUSADER KNIGHT WHO
THEREAFTER PASSED IT
TO THE POSSESSION OF THE SIS CATHOLICOSATE IN CILICIAN ARMENIA AND
AFTER FALL OF CILICIAN ARMENIA IN 1375, THE SPEAR WAS IN 1441
MOVED ALONG WITH NUMBER OF RELICS BACK TO HOLY CITY OF ECHMIADZIN.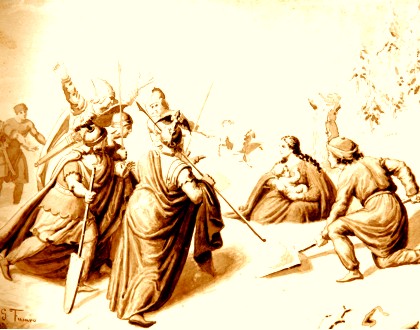 SANATRUK AND HIS ROYAL CARETAKER AVDE ARE FOUND AFTER THREE DAYS
IN THE BLIZZARD. THE XIXTH CENTURY PAINTING BY G. FUSARO FROM
SANATRUK'S LIFE AS RECORDED IN THE HISTORY OF ARMENIA OF THE
FIFTH CENTURY FATHER OF ARMENIAN HISTORY. M. χORĒNAC'I.
A number of successive Arsacid kings persecuted Christian converts throughout the Kingdom. However, the new religion struck root, particularly in small pockets in provinces of Siwnik' and Gołtan. The eradication of Christianity by Sanatruk and the following monarchs was not successful in weeding out the growing religious movement.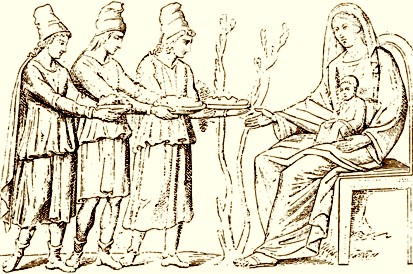 FIFTH CENTURY RELIEF OF ARMENIAN HIGH PRIESTS WITH THE TRADITIONAL
MITHRAIC RED CAPS OFFERING SACRIFICES TO THE GREAT LIFE-GIVER MOTHER
[MARY -- LIT. VIŠAP -- MAR -- COSMIC WATERS -- THE OCEAN OF LIFE].
THE HOLY APOSTOLIC CHURCH KEPT ALIVE THE LIGHT.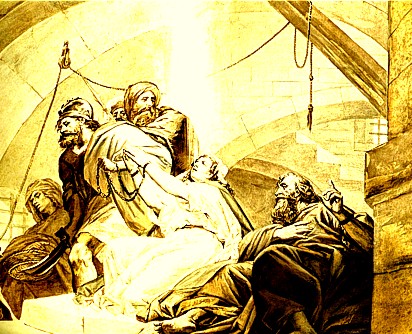 G. FUSARO. ST. THADDEUS, ST. SANDUXT AND OTHER CONVERTS
IN KING SANATRUK'S DUNGEON.
Christianity was particularly popular amongst the masses, that is the lower strata of the feudal social order, including peasants and the poor city dwellers. There were even rare cases of aristocrats who converted to Christianity, the most notable representatives being no other than the sister of King Sanatruk.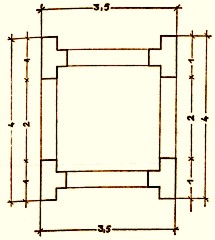 EARLY CHRISTIAN BASILICAS WERE BUILT BY
THE MASTER BUILDERS OF THE MITHRAIC TEMPLES AS THIS
RECONSTRUCTION SKETCH OF THE MOTHER CATHEDRAL [303] INDICATES