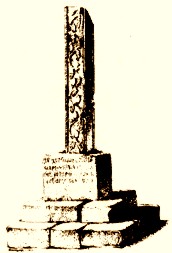 A CENTURY OF ARCHAEOLOGICAL EXPEDITIONS
Written by Gevork Nazaryan
The first archaeological excavations were conducted in 1899 by the renowned armenologist Nikolai Marr. Another archaeological expedition, headed by Xac'ik Dadean, unearthed the external walls of the Mother Church of Dvin. Throughout 1937-1939, the digs led by Professor S. Ter-Avetisean, unearthed parts of the Great Church as well as the patriarchal quarters, divided into three sections, with pyramid apexes on top of the structure. Thorough excavations of the city, including the citadel, were conducted between 1946-148 by a team of archaeologists from the Archaeology Institute of the Academy of Sciences, led by K. Kafadaryan. The findings have shown that the beginnings of settlement on the site of Dvin can be traced back to third and possibly fourth millennium BC (the first volume of the major excavations was published in 1952).
EARLIEST EXCAVATED LAYER




DECORATIVE RELIEF OF AN ALTAR
THIRD MILLENNIUM BC
[SEE BELOW]


OVERVIEW OF THE UNEARTHED ALTAR FROM AFAR. THREE RAM HEADS
SOMEWHAT RESEMBLING THE LATIN LETTER M OR HORIZ. ALIGNED E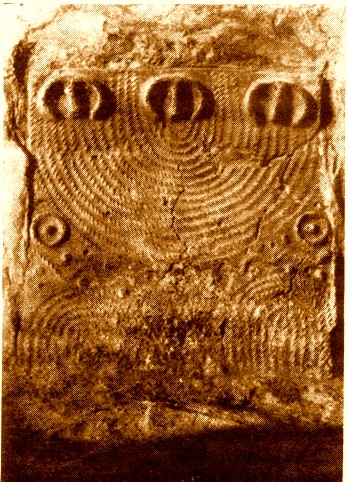 CLOSE UP OF THE ALTAR WITH PROFOUND COSMIC SYMBOLISM.
NOTE THE TWO DOTS [SUN/FIRE...AND...HYDROGEN ATOM]
WITHIN A CIRCLE...SEMISPHERICAL LAYERS...CONVERGING
AND DIVERGING...EXTRACTION AND RETRACTION [RETURN...].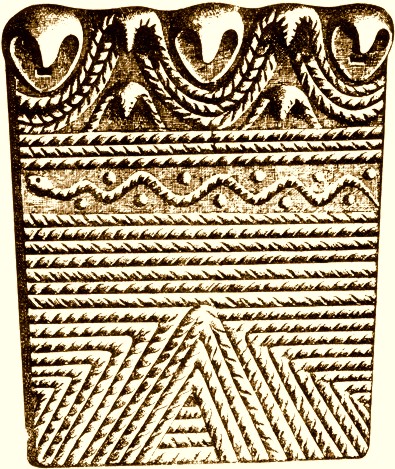 SACRED ALTAR ICON FROM SECOND MILLENNIUM BC.
SEVEN [322] ANTHROPOMORPHIC HEADS ON TOP.
HORIZONTAL SERPENT MARKED WITH 10 CIRCLES
PASSING THROUGH THE CENTER.
VERTICAL COSMIC HIERARCHY POINTS
TOWARDS 10 HORIZONTAL LINES/ALIGNMENT.
SAME SYMBOLISM OF A M SHAPED HEAD
WAS CARRIED OVER TO TROY
AND IS PREVALENT IN EARLIEST LAYER [TROY I] FOUND
AND UNEARTHED BY SCHLIEMANN IN XIXTH CENTURY.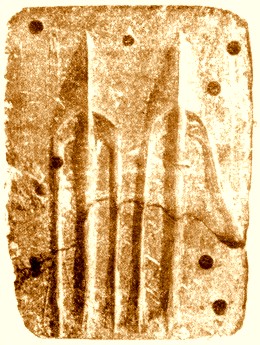 FORM MOLDING FOR MAKING ARROWHEADS.
SECOND MILLENNIUM BC.
The excavations have yielded numerous finds from the Hellenistic period (Kocharyan). The hill at Dvin was, in the opinion of the team of archaeologists excavating the site, enclosed within a defensive wall and inhabited in the time of the Arsacids (Kafadaryan, 1965, p. 284). Possibly in the first half of the IVth century AD (the dating is uncertain; cf. Robert H. Hewsen, 1978-79) King Xosrow [Khosrov] established a vast forestry area of hunting grounds there (Faustus, 3.8).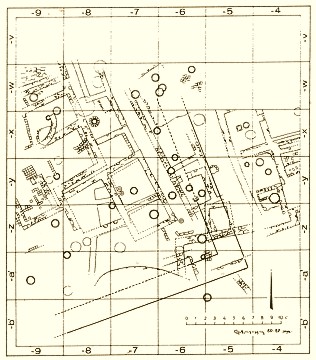 G E N E R A L P L A N O F T H E C I T A D E L