T H E G O L D E N A G E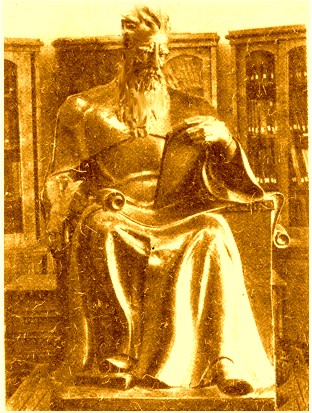 THE FIFTH CENTURY FATHER OF ARMENIAN HISTORY
M. XORĒNATSI. HISTORIC SCULPTURE BY AYTSEMIK URARTU
IN THE MATENADARAN IN YEREVAN.
Written by Gevork Nazaryan
In 404, St. Mesrop Mashtots, the great scholar and spiritualist reinvented and revived the lost Armenian alphabet, that prior to this was replaced by the Greek and Parthian [Pahlavi] alphabets. The latter was due to the great influence of the Parthian state and royalty, which had blood ties with the Arsacid Royal Court and the former due to the Christian ties with Byzantium. Many new schools and educational facilities were established throughout Great Armenia in general and in the Holy City in particular. A new age of enlightenment and awakening of culture began, which later on became known as the Golden Age of Literature and Culture.


OVERALL VIEW OF THE MOTHER CHURCH OF THE HOLY SEE IN THE XVIITH CENTURY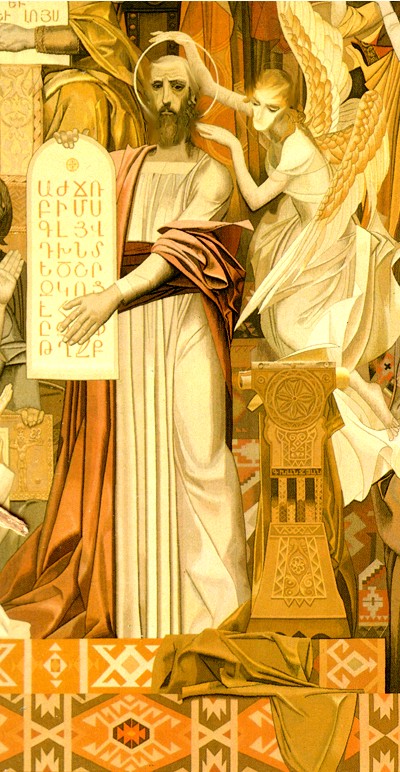 I M M O R T A L M A S H T O T S. G. K H A N J I A N
The T'argmanĉač movement was launched by the Armenian intelligentsia that sought to create an all-encompassing synthesis of knowledge accumulated collectively by the best schools of human thought. Many new books were written by the Armenian scholars, such as the great works of the Vth century historian Mowsēs of Xorēn considered the Father of Armenian History. In his History of Armenia, comprised the chronicle narration of the history of the Armenian people from the times of the biblical Flood to his own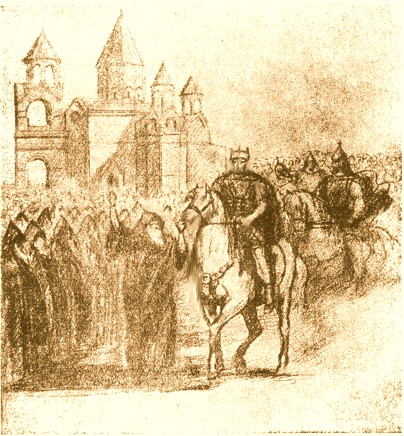 ...HEROES OF THE BATTLE OF AVARAYR RIDE OUT FROM THE HOLY CITY...
contemporary period in the Vth century. While another notable Vth century historian, Ełishē, wrote The Armenian War, where he is an eyewitness to the epic Battle of Avarayr [May 26, 451], described the bloody battle and the heroism and bravery of both the Armenian and Persian warriors on the battlefield.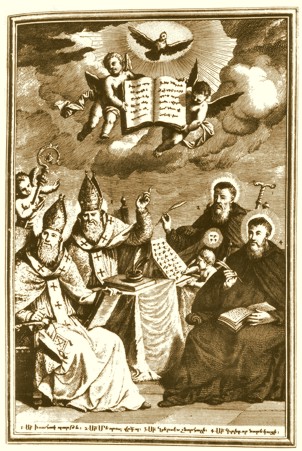 THE GREAT ENLIGHTENERS. ST. MESROP MASHTOTS AND
SAHAK PART'EV LED THE T'ARGMANCHAC' MOVEMENT.
AN XVIIITH CENTURY ENGRAVING DONE IN
SAN LAZARRO UNDER THE MEKHITARIST FATHERS.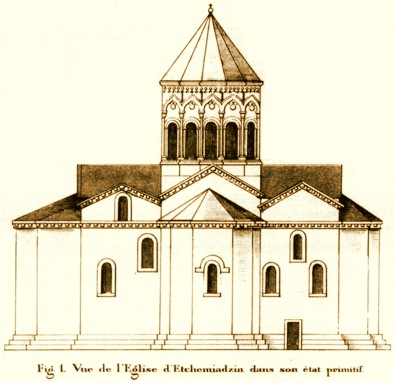 THE MOTHER CATHEDRAL AFTER THE RECONSTRUCTION IN THE FIFTH CENTURY
Many translations were also made during this period. A number of works by classical scholars have been preserved thanks to their Armenian translation, the originals having been lost to the ravages of time. The best translation and the most painstakingly worked upon and completed translation was by far the Bible. The Armenian ecclesiastical scholars believed that it would be a sin to make an inexact and inaccurate translation of the Bible -- thus corrupting the "word of God." For its near perfect translation - the ancient translated Armenian version of the Bible is referred as the 'Queen of Translations' by the linguists who have studied and compared it with the original.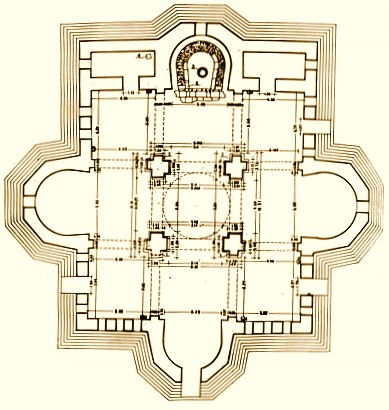 THE FLOOR PLAN OF THE MOTHER CATHEDRAL
AFTER THE RECONSTRUCTION IN THE FIFTH CENTURY
WITHIN THE CATHEDRAL [THE CIRCLE IN UPPER CENTER "HORSESHOE"]
WERE FOUND REMNANTS OF A FIRE SANCTUM AND IMMEDIATELY
NEXT TO IT [THE SQUARE IN THE UPPER LEFT "T SECTION"]
A WATER SOURCE SHRINE [FIRE+WATER = CREATION]