A R M E N I A N D Y N A S T I E S A N D C I V I L I Z A T I O N




T H R O U G H O U T M I L L E N N I A


'...PRINCES ARE LIKE TO HEAVENLY BODIES, WHICH
CAUSE GOOD OR EVIL TIMES; AND WHICH
HAVE MUCH VENERATION, BUT NO REST...'
-- SIR FRANCIS BACON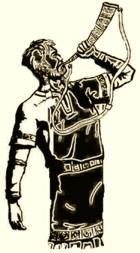 THE BEGINNING
T H E C R A D L E O F C I V I L I Z A T I O N
Written by Gevork Nazaryan


Recent discoveries made in the Armenian Highland or Plateau by a number of European archaeological teams [published in the August 2000 issue of the German scientific magazine Bild Der Wissenschaft] showed that architectural structures, including such advanced complex manifestations such as temples and palaces can be traced to circa 9, 000 BC -- around 11,000 years ago! -- before the common era. The article in the prestigious scientific magazine entitled 6,000 Years before the Pyramids! describes in detail the world oldest temple located in Armenia and dated to circa 9,000 BC -- or 11,000 years ago! In addition to these very important finds, the recent sensational discovery of the Temple City in the Aragatsotn Marz, by a team of Armenian archaeologist from the Academy of Sciences was astounding.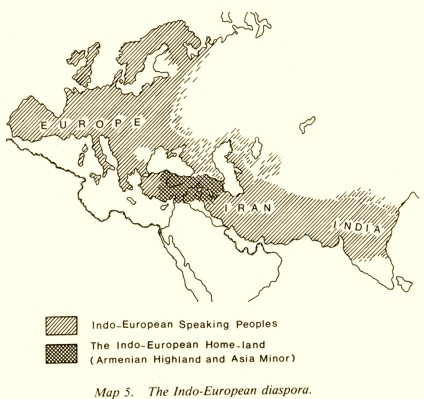 THE STRIPES INDICATE THE BOUNDARIES OF DIFFUSION OF INDO-EUROPEAN
PEOPLES FROM ARMENIAN HIGHLAND [CHECKERED AREA] TO BOTH EAST AND WEST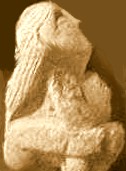 THE REMARKABLY LIFE-LIKE STATUETTE OF OUTSTANDING CRAFTSMANSHIP
FROM NEVALI ÇORI -- ONE OF THE PRIMORDIAL NEOLITHIC SITES WHERE FIRST SETTLED
ARMENIC SOCIETIES BEGAN AND SPREAD CIVILIZATION THROUGHOUT THE GLOBE.
TRULY UNSURPASSED GREAT WORK... CARBON DATED CA. 8,000 BC!!!
WHEN I SAW THE EXTRAORDINARY STATUETTE OF HEROIC...ALMOST GODLIKE STATURE...
GAZING UPWARDS...I IMMEDIATELY KNEW THE NAME...... THE ATLANTEAN.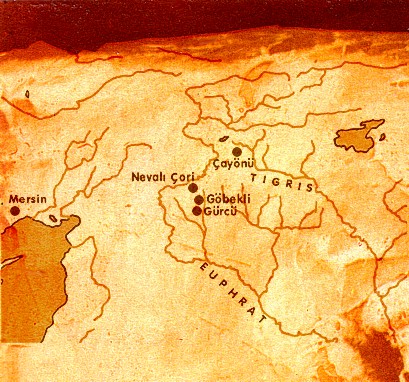 THE NEOLITHIC REVOLUTION BEGAN BY ARMENIC COMMUNITIES IN FIRST SETTLED
SOCIETIES LIKE ÇAYÖNÜ, NEVALI ÇORI, GÖBEKLI TEPE, GÜRCÜ TEPE AND ÇATAL
HÜYÜK. IT IS HERE THAT THE NOSTRATIC PROTO-INDO-EUROPEAN MOTHER LANGUAGE
WAS BORN IN ACCORD WITH THE BEGINNING OF CIVILIZATION [FROM CIVIL/CIVIC/CITY].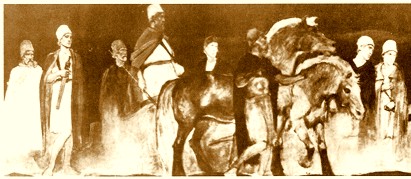 THE SPREAD OF INDO-EUROPEAN CIVILIZATION WOULD NOT BE
POSSIBLE WITHOUT THE CHERISHED ARMANEN STEED.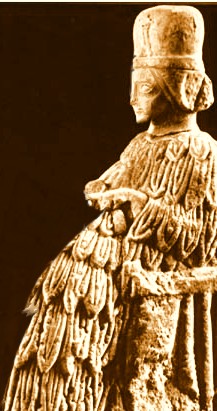 STATUE OF ARMENIC-[LU]ŠINAR [MOON + SUN] SUMERIAN QUEEN OF AR [UR].
THIRD MILLENNIUM BC. FEATHERS MAJESTIC SYMBOL OF THE EAGLE.
The Temple City covers dozens of acres of land and the archaeologists have estimated that it will take about 30 years to fully excavate the whole complex. These promising new discoveries perhaps surpass the historic findings of Metsamor (that among other important finds included one of the earliest if not the earliest metal smelting foundries of the ancient world). In the November 2003 issue, the prestigious scientific magazine Nature published an article by scholars Dr. Russell D. Gray and Dr. Quentin D. Atkinson [11.27.2003] verifying the origin (13 years after the publication by the Scientific American of Indo-Europeanist linguists -- Dr. Vyacheslav Ivanov's and Dr. Thomas Gamkrelidze's detailed work on the origins of The Indo-European Language and the Indo-Europeans firmly established that Armenia is in fact the Indo-European Homeland.


Further Reading: See The Indo-European Language and the Indo-Europeans by the noted scholars, also read the Cradle Chapter of the Chronicle p. 103 Click Here