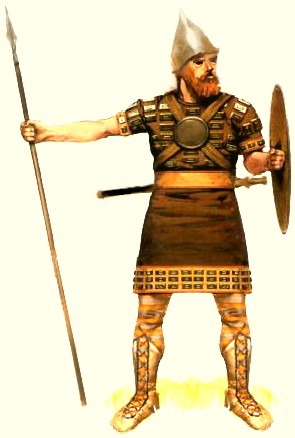 THE NAIRI CONFEDERATION XIII-IXTH CENTURIES BC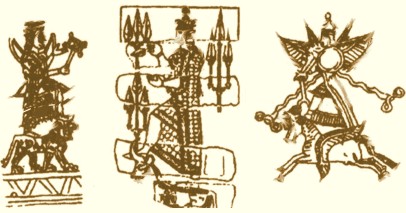 THE HOLY TRINITY OF THE ARARATIAN PANTHEON OF GODS OF NAIRI-NAHARIN.
ON LEFT - [K]HALD[I]-HAY[A]K [SON OF EA-HAYA] ON LION ON TOP OF
THE MOUNTAINS [UP AND DOWN POINTING
ZIGZAGGING TRIANGLES]. TEYŠEBA THE GOD OF THUNDER AND THE LIGHTNING
[AGAIN TRIPLE DECKER ORDER.... 3x3 SACRED LEAVES WITH THE 10 IN THE
RIGHT HAND RETURN TO UNITY]. ŠIVINI [A VARIANT OF THE WORD SUN] -
THE SOLAR GOD - UPON THE PEGASUS AND
THE WINGED SUN DISK. TWO RAYS STANDING FOR THE TWIN PILLARS [COSMIC
TWIN MOUNTAIN] AND THE TWO RIVERS OF DILMUN-ARARAT [LAND OF PARADISE]
WITH THE SIGN OF INFINITY ∞ AT THE TIPS.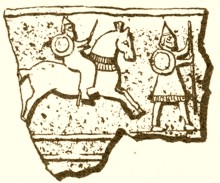 NAIRI -- THE SACRED LIFE-GIVING HIGHLAND OF FIRE AND WATER
THE UNION INCLUDED 51 STATES -- INCLUDING THE TERRITORY OF
THE EARLIER HAYASA-AZZI CONFEDERACY
ACCORDING TO THE CUNEIFORM INSCRIPTIONS OF 1275 BC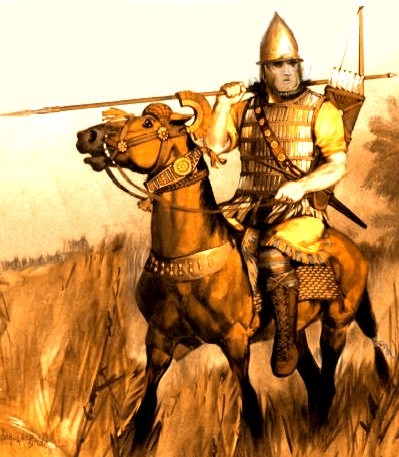 ARMENIAN AYRUDZI HORSEMAN OF ARME-SUBRIA [SUBARTU]. THE CORE
OF THE NAIRI CONFEDERATION LED BY THE ARMANEN GRAND COUNCIL.
THE SU IN SUBRIA-SUBARTU CONNOTES THE SUN WHICH IS ALSO FOUND
IN THE NAME OF ARAM-SURYA [AGAIN NAMED AFTER THE SUN GOD]
OR MITANNI-NAHARIN-NAIRI.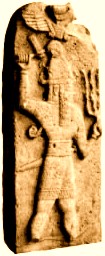 TEYŠEBA. HAYASAN-HITTITE-HURRIAN STORM/THUNDER GOD.
WITH THE HAMMER, TRIDENT AND THE SWORD.
NOTE THE MITHRAIC [MITANNI] -- HITTITE-EGYPTIAN CONIC HEADDRESS
CAPPED WITH THE SPHERE [MALE + FEMALE UNION...NOTE THE OFFSHOOT SPIRAL].
BROKEN REMNANTS OF THE ROYAL DOUBLE HEADED EAGLE BLAZON ABOVE.
STELLA FROM THE MIDDLE OF SECOND MILLENNIUM BC.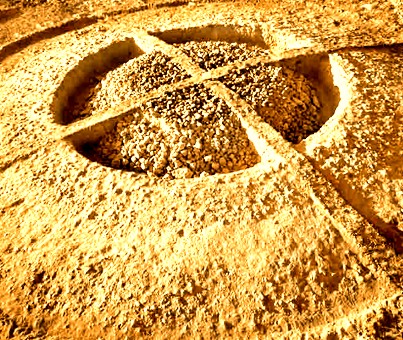 TOMB OF A NOBLE IN THE FORM OF THE SOLAR CROSS.
NOR OŠAKAN, THIRD MILLENNIUM BC.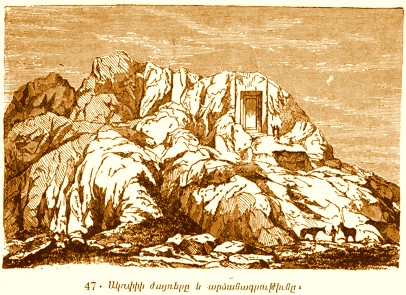 THE DOOR OF MHER [CAVE MITHRÆVM] OVERLOOKING THE CAPITAL TUŠPA [VAN].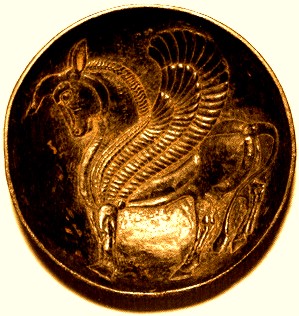 ARARATIAN SEAL WITH THE SYMBOL OF A WINGED BULL [TAURUS FEM.
PRINCIPLE WITH WINGS...UNITED WITH MASC. PRINCIPLE]. THE SACRIFICE OF
THE BULL RAN IN PARALLEL WITH THE IMPREGNATION OF MOTHER EARTH...
HIEROS GAMOS [HOLY HETAERISM] RITES THAT WERE PERFORMED
DURING MITHRAIC MYSTERIES. THE MAGNIFICENT ARARATIAN CULTURE
INFLUENCED ALL OF THE LATER CULTURES OF THE ANCIENT WORLD.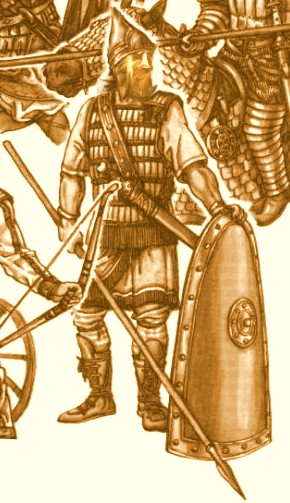 ARARATIAN-NAIRIAN SPEARMAN. TOWER-SHIELD, BREAST-ARMOR
OVER TUNIC, CONIC HELMET, LEATHER-LACED BOOTS, BROAD SWORD.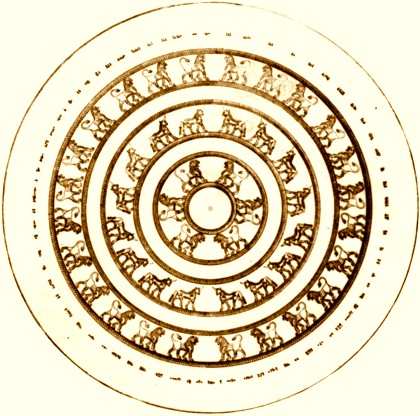 ARARATIAN-NAIRI ARMENIAN SHIELDS MANIFESTING SUBLIME COSMIC SYMBOLISM.
[SEE THE NEXT PAGE OF THIS CHAPTER FOR MORE INFORMATION ON THE
ARMENIAN WARRIORS' ARMAMENTS INCLUDING SHIELDS].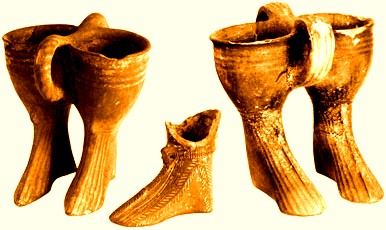 DRINKING GOBLETS IN THE FORMS OF SHOES. TANDZAVER [L],
AŁVANI, DAVIT' BEK. XII-XI CENTURIES BC.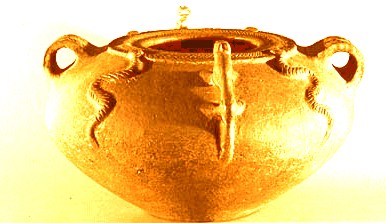 RITUAL PITCHER WITH SNAKES AND LIZARDS. SANAHIN. XI-XTH CENTURIES BC.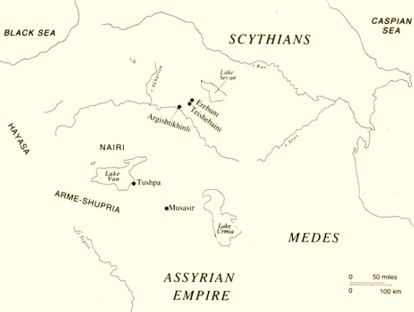 A IXTH CENTURY INSCRIPTIONS NOTES THE IMPORTANT CITY OF KHUBUSHKIA
OF THE CONFEDERATION UNDER THE RULE OF KING KAKIA WHO
DEFEATED AND REPELLED THE ASSYRIAN INVADERS.