T H E G A H N A M A K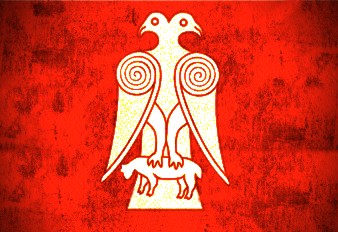 THE FLAG OF THE MAMIKONEAN HOUSE - ONE OF THE MOST
PROMINENT NAXARARDOMS OF ARMENIA. UPON A RED BANNER - A
WHITE DOUBLE HEADED EAGLE WITH SPIRALING WINGS
[SPINNING RIGHT AND LEFT...] CLUTCHING A LAMB. AN ALTERNATIVE
FLAG ALSO USED BY THE MAMIKONEAN HOUSE FEATURED SAME HERALDRY
EXCEPT THE COLORS WERE INVERTED
[WHITE BANNER AND RED EAGLE AND LAMB]. AN EARLIER BANNER OF
THE MAMIKONEAN HOUSE FEATURED AN EAGLE CLUTCHING A BOW
[AGAIN SAME COLORS - RED BANNER AND WHITE EAGLE]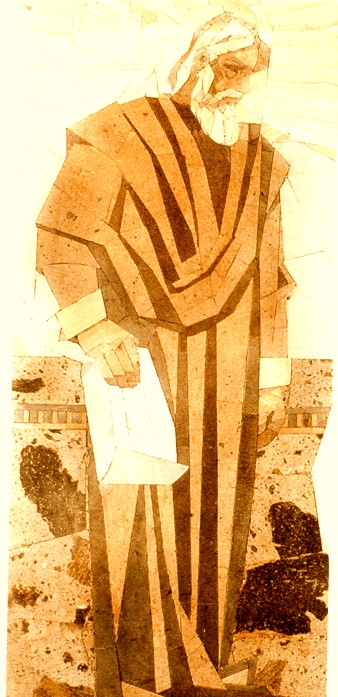 THE FIFTH CENTURY - FATHER OF ARMENIAN HISTORY - MOWSĒS OF XORĒN [410-494]
WHO COMPLETED HIS GREAT WORK - HISTORY OF ARMENIA - UNDER THE
PATRONAGE OF PRINCE SAHAK BAGRATID [RULER OF GREATER ARMENIA FROM 482].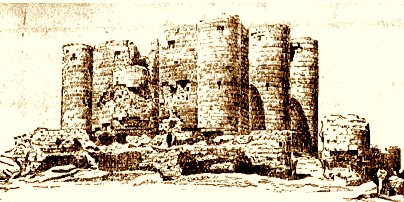 RUINS OF TIGNIS CASTLE THAT GUARDED ANI FROM THE NORTH-EAST.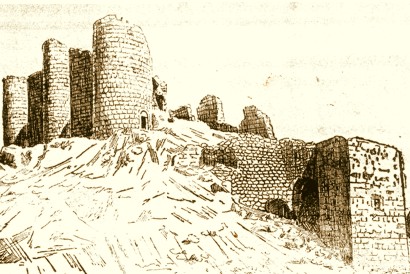 RUINS OF AMBERD CASTLE. ONE OF THE STRONGHOLDS OF PAHLAVUNI NOBILITY
THAT PLAYED A CRUCIAL ROLE IN THE LIFE OF ANI. PAHLAVUNIS WERE THE RIGHT HAND
AND THE MILITARY COMMANDERS OF ARMENIAN FORCES
UNDER BAGRATID KINGS. SPARAPET [COMMANDER] VAHRAM PAHLAVUNI
WAS ONE OF THE MOST DISTINGUISHED REPRESENTATIVES OF THE HOUSE
AND MILITARY LEADERS OF THE ERA.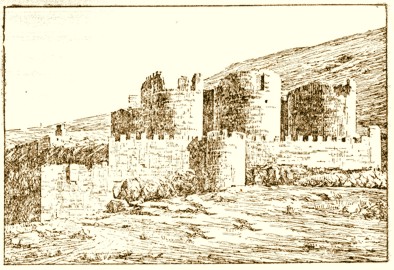 RUINS OF MAŁASBERD FORTRESS THAT GUARDED ANI FROM THE SOUTH.


RUINS OF THE ONCE ENORMOUS MULTILAYERED WALLS OF THE FORTRESS-CITY OF
KARS -- THE OLD BAGRATID CAPITAL WEST OF THE ARAXES RIVER.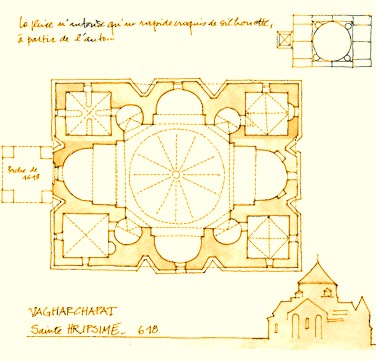 THE SOLEMN GRACE OF THE CHURCH OF ST. HṚIPSIMĒ [614]
WITH THE TRADITIONAL PYRAMIDAL-CONIC DOME OF THE
ARMANI MASTER BUILDERS. FLOOR PLAN [AT TOP] OF
THE CHURCH IN VAŁARŠAPAT.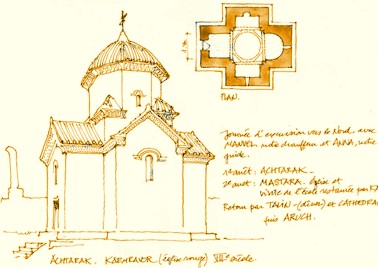 KARMRAVOR [RED] CHURCH IN ASTARAK. SEVENTH CENTURY.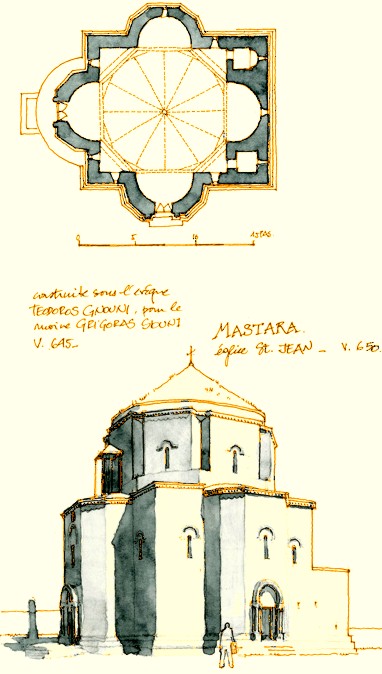 THE CHURCH OF MASTARA BUILT BY GNUNI PRINCES THEODORE
AND GREGORY. 650 AD. FLOOR PLAN [AT TOP] OF THE CHURCH OF MASTARA.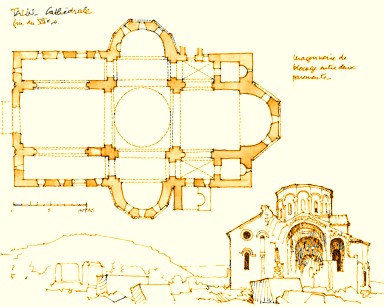 THE RUINS OF CATHEDRAL OF T'ALIN AND THE FLOOR PLAN [AT TOP].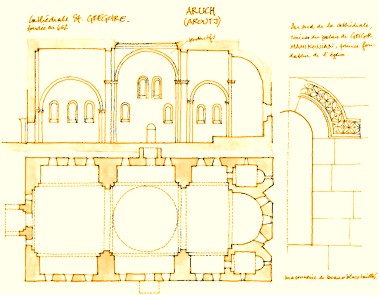 CUT OUT OF THE CATHEDRAL OF ST. GREGORY IN ARUCH. 662. BASED
ON THE MITHRĆVM-BASILICA PATTERN. THE FLOOR PLAN [AT BOTTOM].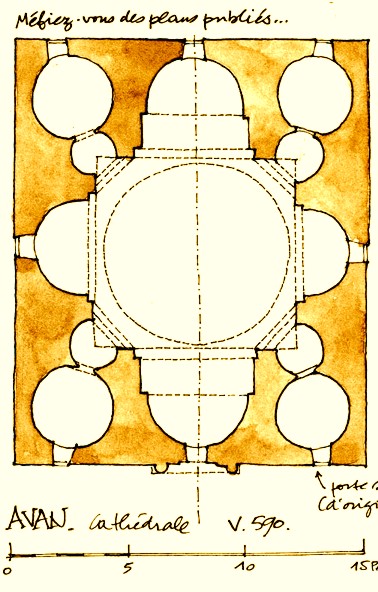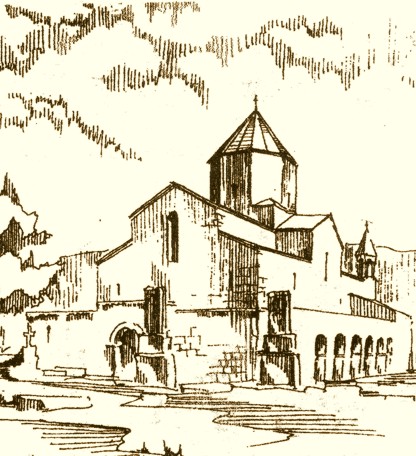 ODZUN MONASTERY. VITH CENTURY.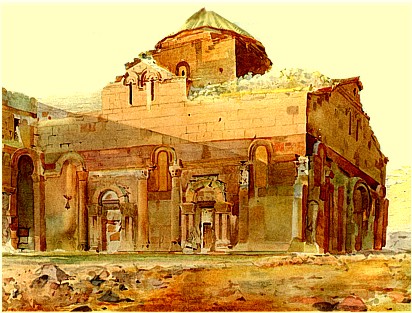 R U I N S O F T H E T E K O R B A S I L I C A [F I F T H C E N T U R Y]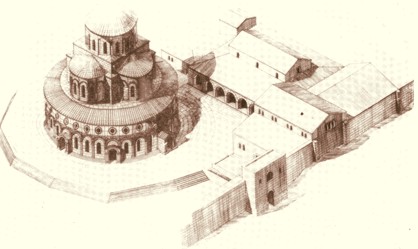 THE ZVARTNOTS CATHEDRAL ACCORDING TO ARCHITECT
STEPAN MNATSAKANIAN'S RECONSTRUCTION.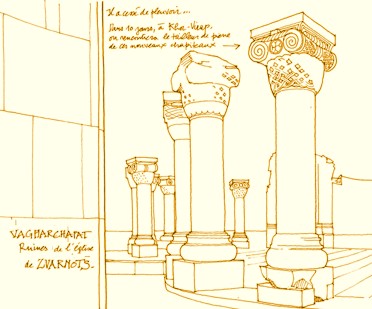 THE SPIRALING RAM-HEAD COLUMNS OF THE ZVARTNOTS CATHEDRAL.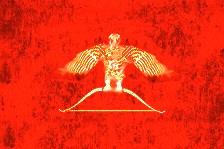 THE EARLY FLAG OF THE MAMIKONEAN HOUSE.
RED BANNER WITH WHITE EAGLE CLUTCHING A BOW.
THE DESCRIPTION OF THE FLAG WAS GIVEN BY
THE FIFTH CENTURY ARMENIAN HISTORIAN PAWSTOS BUZAND
WHO NOTED THE BANNER BEING FLOWN DURING THE BATTLE
OF AVARAYR BY THE FLAG BEARER OF MAMIKONEAN CAVALRY.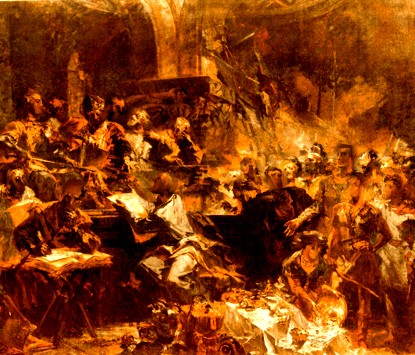 ANSWER TO YAZDEGERD II. 1967 PAINTING BY E. A. ISABEKEAN. A PERIOD FROM THE
VARDANANC WARS [451] WHICH RESULTED IN THE BATTLE OF AVARAYR.
THE ARMENIANS AND IRANIANS WERE BLOOD BROTHERS AND AS SUCH COUNTLESS
ARMENIAN NOBLES SPOKE OF THE NEED TO MAINTAIN AN ALLIED STANCE WITH
SASSANIAN IRAN. TO NO AVAIL, THE RELIGIOUS PASSION AND CHURCH POLITICS.
THE GAHNAMAK ACCORDING TO -- THE VTH CENTURY
FATHER OF ARMENIAN HISTORY -- M. XORĒNAC'I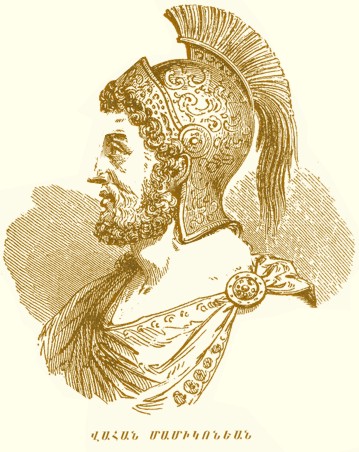 COMMANDER VAHAN MAMIKONEAN [MAMIKONIAN] WHO LED THE
ARMENIAN FORCES DURING THE VAHANANC' WARS OF 484-485.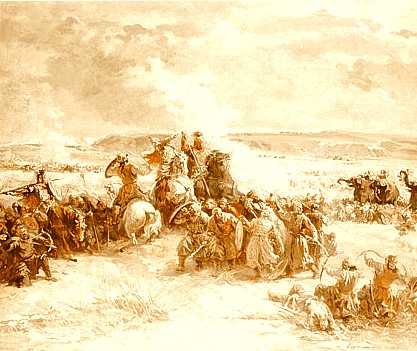 1. Bagratids
2. Vanandatsis
3. Gntunis
4. Khorkhorunis
5. Varazhnunis
6. Gabeghians
7. Abeghians
8. Artsrunids
9. Gnunis
10. Spandunis
11. Havnunis
12. Dziwnakans
13. Muratsians
14. Sisakians
15. Kadmeans
16. Uteans
17. Gardmans
18. Tsavdeans
19. Gargaratsis
20. Gushars
21. Ashotseans
22. Gugars [Viceroys]
23. Vordunis
24. Angełs
25. Sophens
26. Apahuniner
27. Manavazians
28. Bznunis
29. Slkunis
30. Mandakunis
31. Vahunis
32. Aravenians
33. Zarehavanians
34. Shavarshians
35. Mokians
36. Kordeans
37. Andzevatsis
38. Akeans
39. Rshtunis
40. Gołtans
41. Hashteans
42. Artashamians
43. Aghiovitians
44. Arberians
45. Alznis [Viceroys]
46. Dimaksians
47. Trunis
48. Amatunis
49. Aravełians
50. Ropsians
51. Vchenits
52. Mamikoneans
53. Kamsarakans
54. Mardpetunis
55. Andzits
56. Khadunis
57. Khordzenits
58. Chichraketsis
59. Gełamians
60. Sharayans
61. Kananatsis
62. Tashirs