ACCESSION TO THE ROYAL THRONE


Written by Gevork Nazaryan
In 287, Prince Trdat was crowned as Trdat III of the Royal House of Arshak. From the early years of his reign Trdat III championed the campaign of restoring the Arsacid rule in Iran. Trdat, the warrior king, launched a ten-year military campaign in driving out the Persians from the occupied southern ašxars of Greater Armenia. Armeno-Roman troops crossed into Armenian Atrpatakan which since the first century was in Persian hands. In 298, by the Treaty of Mtsbin [Nisibis] the Persians agreed on the restoration of Artaxiad frontiers (most of Armenian Mesopotamia, Atrpatakan and Nor-Širakan ašxarhs were reincorporated into Greater Armenia. The Artaxiad Royal Dynasty ruled Armenia from the second century BC to the First Century, preceding the Aršakuni Royal Dynasty, the last of the Artaxiad monarchs were King Tigran VIth and Queen Erato. After successfully solidifying and strengthening Armenia's foreign diplomacy, Trdat III conducted a number of economic and political reforms within Greater Armenia. New census of the populace was taken and a new reform of taxation of the upper and lower classes was introduced. King Trdat in 298, as a gesture of the alliance with the Alans [related to Scythians] married the daughter of the Alani King Ašxadar, princess Ašxēn, the alliance went back to the times of the founder of the Artaxiad Royal Dynasty - King Artaxerxes I, in the the second century BC, who set the example by marrying the beautiful Alani Princess Satenik.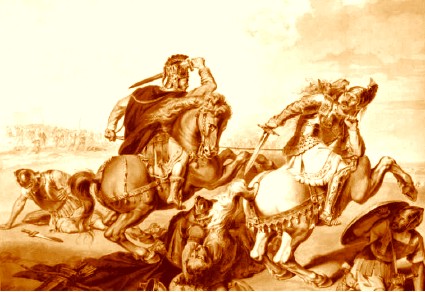 KING TIRIDATES III THE GREAT CALLS FOR HAND COMBAT KING GIDEON OF INVADING
BASILS. TIRIDATES' SWORD CUTS THROUGH THE BREASTPLATE OF KING GIDEON
AND REACHES ALL THE WAY TO HIS HORSE'S HEAD STRIKING HIM DEAD TO THE
GROUND AND THE INVADING ARMY FLEES IN DISARRAY.