T H E C H R O N I C L E

M A N -- K N O W T H Y S E L F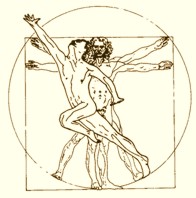 'ON THE GROUNDS THAT IT IS BETTER THAN NOTHING.
IT IS NOT BETTER THAN NOTHING IF IT IS NOT TRUE
TRUTH IS BETTER THAN ANYTHING OR ALL THINGS.'
-- AMBROSE BIERCE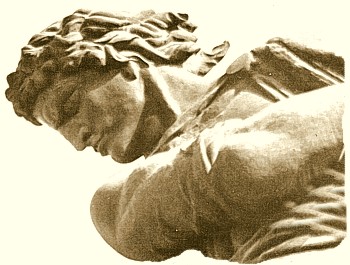 "...WHEN THE PEOPLE NEEDED HIM...
THE HERO CAME OUT...FROM THE CAVE...
[TO BANISH THE DARKNESS OF IGNORANCE]
THUS BEGAN -- THE NEW CYCLE..."
-- THE DAREDEVILS OF SA-SUN

'...HISTORY, AS IT LIES AT THE ROOT OF ALL SCIENCE,
IS ALSO THE FIRST DISTINCT PRODUCT OF MAN'S
SPIRITUAL NATURE; HIS EARLIEST EXPRESSION OF
WHAT CAN BE CALLED THOUGHT...'
-- THOMAS CARLYLE
Written by Gevork Nazaryan
I decided to use certain portions from my extensive handwritten manuscripts, which would cover the Armenian Civilization within, as I previously noted, broader framework of world history and all-encompassing human heritage. I decided to include detailed chapters, which would cover various epochs and periods in the long timeline of the history of the Armenian Civilization starting from the Genesis Chapter -- ARMENIA: THE CRADLE OF HUMAN CIVILIZATION. I entitled my Work -- The Armenian Enlightenment Chronicle, because it is highly symbolic of the nature of the Work -- representing the edification and enlightenment of the global public through the benefits of the 21st century technology that is -- the Internet. I greatly hoped for that my dedication to this Work will rightly serve the purpose of making the Enlightenment Chronicle an open book, an Encyclopedia if you will, to all people from every corner of the globe. Many Chapters include some of the most prominent representatives in the millennia of Armenian History.
I personally regard Culture as the ultimate representation of any Civilization. Therefore the Armenian High Culture in the fields of art [including ancient frescos, illuminated manuscripts, ornamental cross-stones, etc.] crafts [decorative jewelry, ornate pottery, etc.] architecture [castles, palaces, temples, churches, monasteries, cathedrals, etc.] was given a special place within the framework of the Enlightenment Chronicle. The renowned artists and writers of the XIXth and XXth centuries were placed within the overall category of contemporary history. Also, many of the major cities that played an important role in shaping the history of Armenia and the Armenian people including Van, Ani, Dvin, Tigranakert, Artashat, Holy Etchmiadzin as well as Yerevan -- the Capital of the Three [successive] Republics -- were given a special place within the pages of the Enlightenment Chronicle, with a a thorough and detailed narration from their pre-historic origins to the present.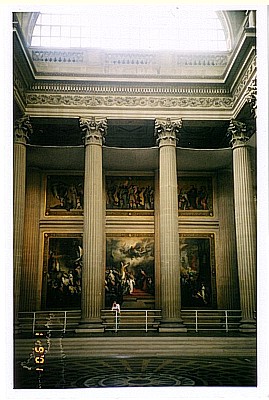 C'EST MOI . . . IN PARIS' NEO-CLASSICAL PANTHEON OF THE IMMORTAL HEROES --
SEPTEMBER 1, '01. AS BEN FRANKLYN DURING HIS STAY IN PARIS NOTED --
ONE BELONGS TO TWO NATIONS -- HIS NATIVE LAND AND... FRANCE.
I AM A GREAT CONNOISSEUR OF THE MANY WONDERFUL CULTURES OF OUR
BEAUTIFUL BLUE PLANET AND AS SUCH I AM A FRANCOPHILE INDEED FOR FRANCE
HAS A VERY RICH CULTURE AND TRULY GREAT PEOPLE. VIVE LA FRANCE!