T H E T E M P L E O F M U S A S I R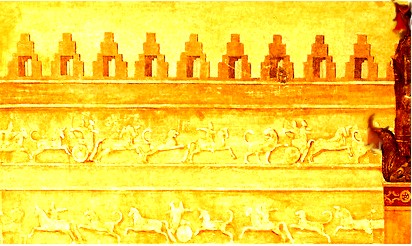 THE LOUVRE TEXTS ON LATE ARARATIAN HISTORY AND
THE TREASURES OF MUSASIR
By Mark A. Kalustian
We gather from the Louvre texts that in the summer of 714 BC, Sargon with a great army crossed the Kurdish mountains towards Lake Urmia, swept through the Araratian cities in the area and then turned westward into the land of Nairi, south of Lake Van. For good reason (knowing that many of his Assyrian predecessors were thrown back from the gates of Van), Sargon by-passed Tushpa and marched around the northern and western reaches of the lake and stealthily attacked Musasir, throwing the entire countryside into panic and confusion. King Urzana and his retinue fled into the mountains, leaving the victorious Assyrians to overrun the city and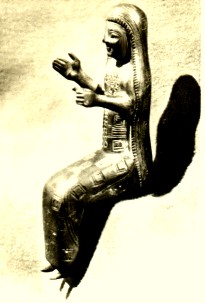 WORSHIP STATUE OF GODDESS ARUBANI.
SACRED FEMININE COUNTERPART OF HALDI.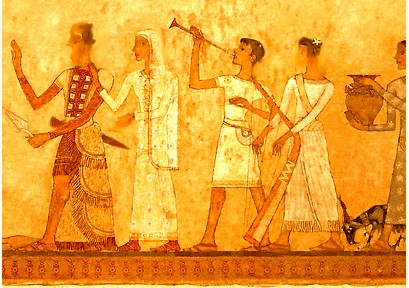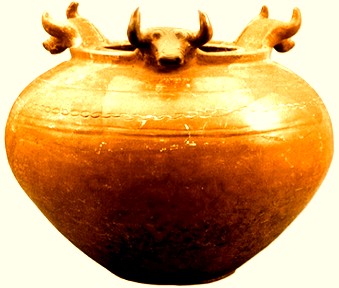 SACRED CEREMONIAL VESSEL OF HALDIAN-CHALDEAN TEMPLES
WITH FOUR BULLHEAD HANDLES.
capture the palace of the ruler with its store-rooms filled with immense treasure. He then entered the temple of the god Haldi (Khaldi) where even greater beauty was found. The list of valuables has been catalogued in the Louvre text(3) and it defies imagination and comprehension. It is sufficient to state that King Rusa had assembled the greater part of the treasures of Ararat (Urartu) in Musasir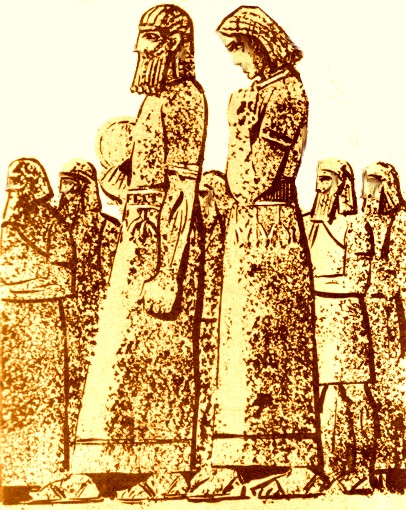 ARMANEN KURMS HIGH PRIEST ASTRONOMERS.
GUARDIANS OF THE ETERNAL FLAME OF WISDOM.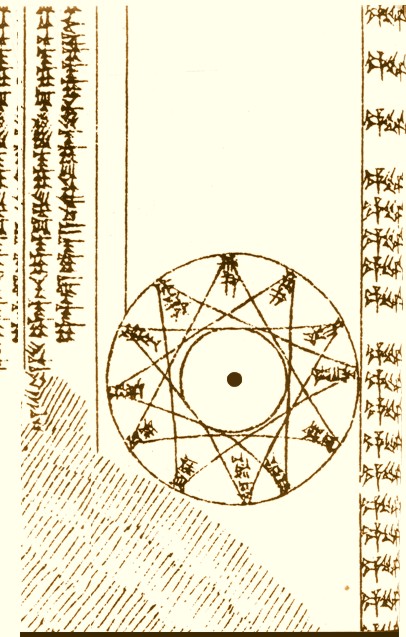 CUNEIFORM INSCRIPTION RECORD [FOR FOLLOWING POSTERITY...] THE PRECESSION OF
THE 12 HOUSES OF THE ZODIAC [DUODECIMAL SYSTEM] AROUND THE FIXED POINT.
THE REVOLUTIONARY DUODECIMAL SYSTEM OF THE ARMANI CHALDEAN HIGH PRIESTS
OF THE ASTRONOMICAL WISDOM TEMPLES.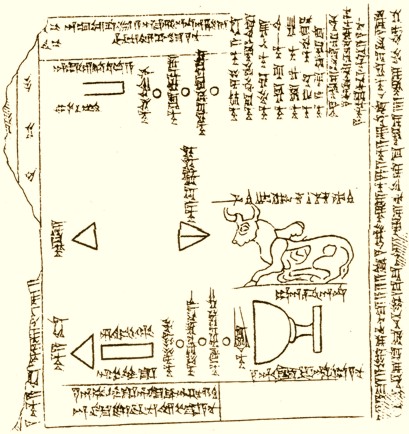 THE CELESTIAL BULL [TAURUS]. ESOTERIC CUNEIFORM TABLET
OF THE CHALDEAN ASTRONOMERS KEPT IN THE CONCEALED VAULTS.
NOTE THE CHALICE.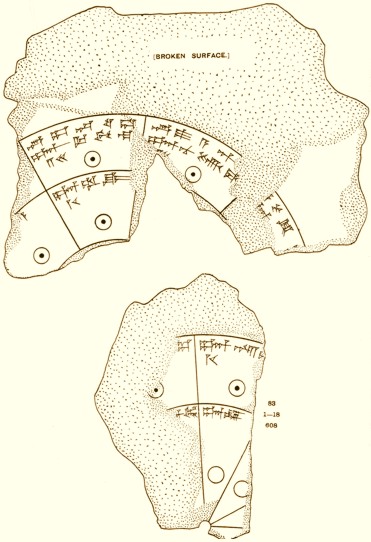 BROKEN REMNANTS OF THE CUNEIFORM DISK RECORDING
THE SOLAR PRECESSION CYCLE THROUGH THE HOUSES.
THE METICULOUS AND PAINSTAKING OBSERVATION OF CELESTIAL HEAVENS
AND SUBSEQUENT RECORDING WOULD ENSURE
FORETELLING THE FUTURE BASED ON COSMIC PHENOMENA.
THE SUPREME OBSESSION AMONG OTHER THINGS
WAS PRIMARILY BORNE OUT OF THE TERRIBLE ANXIETY OF
CALCULATING THE SHIFT OF THE AXIS...CELESTIAL AND TERRESTRIAL
SHIFT [POLAR OPPOSITES REVERSE...+ BECOMES – AND VICE VERSA...]
WOULD ALWAYS RESULT IN A CATASTROPHE OR A 'DELUGE' OF CIVILIZATION.


NINE BEING THE SACRED CHALDEAN NUMBER OF
MOTHER EARTH AND ALL THE PLANETS EXCEPT...
VENUS WHICH HAS THE FADIC VALUE OF

FOUR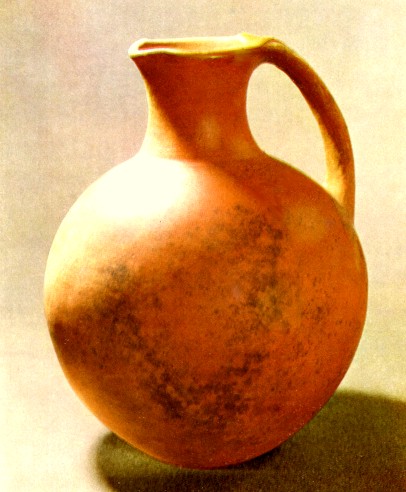 ONE OF COUNTLESS KARASES FROM EREBUNI. FIRST MILLENNIUM BC.
for safe-keeping under the care of his hand-picked ruler Urzana, to thwart the greedy appetite of the mighty Assyrian king. Indeed, the treasures of the Egyptian Tutankhamen discovered in the 1920's pales into insignificance when compared with the fantastic wealth that Sargon carried back to Assyria to record in text and bas-relief in the capital of Assur and the palace at Dur-Sharrukin. Fortunately, the boastful inscriptions and wall paintings of the military monarch have preserved for us the nature of the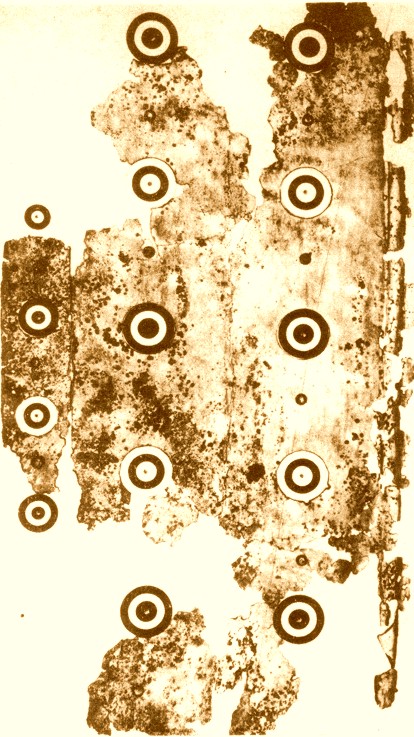 SEV AREV [BLACK SUN] QUINTESSENTIAL SYMBOL OF ARARAT
high culture of Ararat, which otherwise would have never seen the light of day. It has been stated that when Hrusha (Rusa) learned of the destruction and pillaging of Musasir and the sacrilege of the Great Temple of Haldi, the grief-stricken the King and the Supreme High Priest of Ararat, committed suicide.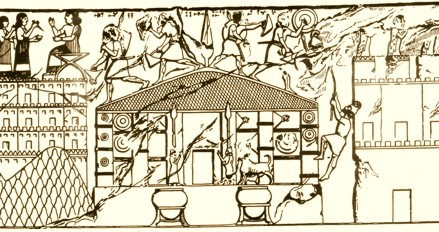 T H E P L U N D E R O F T H E G R A N D T E M P L E