THE TEMPLE OF MUSASIR
XXTH CENTURY EXCAVATIONS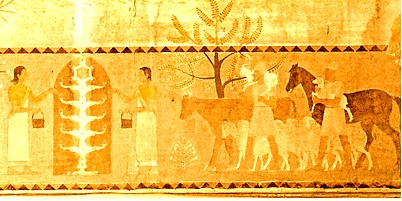 By Mark A. Kalustian
Since 1959, the Historical Society and the Department of Antiquities have conducted excavations in the Yerznka area, west of Karin. Here at Altintepe was revealed an Araratian temple and other monuments.(7) It is significant to point out that although only the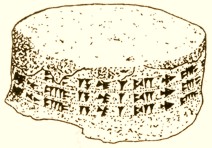 DEPICTION OF THE INSCRIBED COLUMN BASE CONNOTING
ERECTION DURING THE REIGN OF KING MENUA.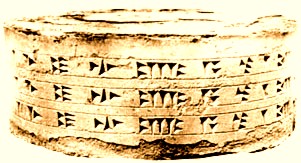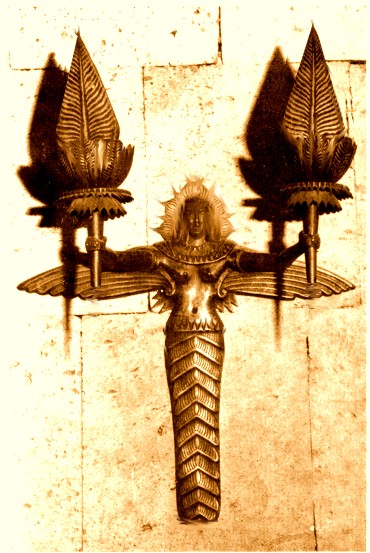 WINGED FLAMING GODDESS MOTHER ARUBANI-BAGMAŠTU ]LIT. BAG...GOD/
DIVINE MAŠTU...WISDOM] WITH THE SACRED SCRYING CONIC SOSE LEAVES.
TWELVE CHEVRONS LEAD TO THE TORSO/BODY/NAVEL.




MORE OF CHALDEAN WIZARDRY THAT UNDOUBTEDLY
IS AESTHETICALLY ENCHANTING OBJET D'ART.
ARARATIAN-VANIC TRIPOD WITH THE TOP CIRCLE
DECORATED WITH TWO MASKS IN RELIEF, THREE MASKS
ON THE INSIDE CIRCLE...AS WITH ALL SACRED ARMANI TRIPODS
LEGS ENDING IN HOOFS. DISPLAYED IN THE LOUVRE MUSEUM IN PARIS.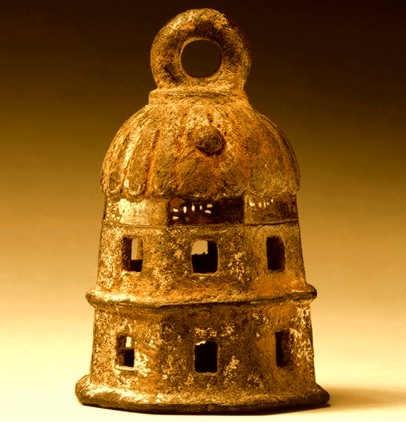 BELL INSCRIBED WITH THE ROYAL NAME OF KING ARGIŠTI I [785-53 BC].
THIS CLASSICAL ARARATIAN/URARTEAN/VANIC BELL HAS A DOMED TOP
[SACRED FEMININE PRINCIPLE]...AN OCTAGONAL AND PERFORATED BODY WITH
A CENTRAL RAISED RIDGE, AND A LOOP [INFINITY] FOR SUSPENSION. TRIPLE DECKER
THAT HAS 8+8= [SACRED] 16 WINDOWS CROWNED WITH THE TIP/DOME/LOOP.
DISPLAYED IN THE METROPOLITAN MUSEUM OF ARTS IN NEW YORK.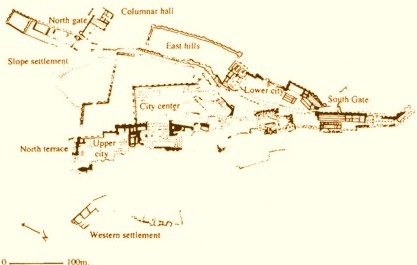 CITY PLAN OF THE GREAT ARARATIAN OUTPOST OF B A S T A M GUARDED SACRED
MUSASIR FROM THE EAST. THE COLUMNAR HALL MADE UP OF SEVEN PARALLEL
COLUMNS INCLUDED THE SACRED SUSI TEMPLE OF [C]HALDI-HAYK-EA. THE STABLES
OF THE STATIONED AYRUDZI CAVALRY WAS TO THE NORTHEAST OF THE MAIN
PALACE COMPLEX. THE NORTH GATE WAS GUARDED BY TWO TOWERS WHICH
DEFENDED THE PASSAGEWAY LINKING TO THE 5-METER WIDE STREET LEADING TO
THE CITADEL FORTRESS.

JAR FRAGMENT OF A BULL'S HEAD ATTACHMENT FROM THE VAN MUSEUM
OF DARK GRAY WARE BURNISHED BLACK SLIP, AND INCISED WITH GEOMETRIC
MOTIFS. NOTE THE DOWNWARD POINTING TRIANGLE [VULVA/MOTHER EARTH]
ON THE FOREHEAD.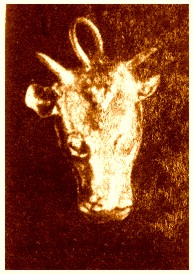 MEDALLION WITH THE GOLDEN HEAD OF A BULL. THE LOOP ON TOP [O]
OVER A 'T-SHAPED' HEAD IS COMPLEMENTED WITH A DOWNWARD
POINTING TRIANGLE [IN 3 ROWS WITH 1+2+3 DOTS] ON THE FOREHEAD.


FINALLY MADE BRONZE CEREMONIAL STANDARD [WORLD PILLAR UPON
THE 'COSMIC BOAT' ALSO SOLAR + LUNAR OR MALE + FEMALE ANDROGYNY
REP. BY AYTS] SURMOUNTED BY AN IBEX [TOTEMIC AYA-AYTS].
DISPLAYED IN THE LOUVRE MUSEUM IN PARIS.
foundations of the temple are in view, this shrine to the god Haldi (Khaldi or Chalde), located in the Ararat confederation of Haiasa, the heartland of Hai [pronounced High] forefathers, contained many treasures very much alike those described by the bas-reliefs of the Assyrian king Sargon II.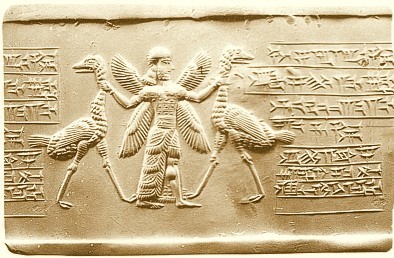 THE SEAL OF UR-ZANA ARMAN KING OF THE HOLY LAND OF MUSASIR.
IN THE CENTER -- HIGH PRIEST WITH THE WINGS OF GODHOOD
CLUTCHING TWO OSTRICH BIRDS FACING EAST AND WEST...
MAN IN CONTROL OF THE ELEMENTS.