GREGORY'S BIRTH AND BOYHOOD YEARS
Written by Gevork Nazaryan
Gregory was born in 239 in the family of Anak P'ahlavi [Parthian]. From the early childhood Gregory had to face a life of hardship and difficult path. His father Anak was charged for assassinating King Xosrov Aršakuni and was subsequently executed. Gregory narrowly escaped and was saved from the hands of the royal guards with the help of his caretakers Sophia and Evtał.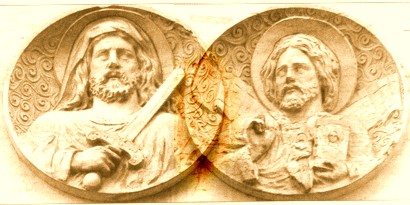 THE FOUNDERS OF ARMENIA'S HOLY APOSTOLIC CHURCH.
DISCIPLES OF CHRIST -- ST. THADDEUS [L] AND ST. BARTHOLOMEW.
The young Gregory was taken to Caesarea, in Cappadocia, where the two caretakers hoped to raise and educate him in the proper fashion. They also hoped that as the time went on, the Arsacid House would forget the treachery of the P'ahlavi - Parthian clan of Gregory. The young boy was given to Bishop Phirmilianos for indoctrination.